A TRIBUTE TO SLIM WHITMAN
Here for the first time in Australia, we have a fabulous tribute show saluting the all time great of country music, Slim Whitman.

Slim Whitman toured Australia many times and during his last tour Ian went backstage to meet the man who has inspired his singing career so much.

As Slim Whitman has such an incredible range in his voice, Ian spent many months listening to Slim's songs and perfecting the falsettos, the high notes and yodelling that is so much a part of the Slim Whitman legend.

Many people who have been to Ian's shows have stated that if you just close your eyes and listen to Ian's voice you would swear you were listening to Slim Whitman himself. Praise indeed from a public who are becoming increasingly blasé and very difficult to please!

All the great hits are there - 'China Doll'; 'The Indian Love Call'; 'I'll Take You Home Again, Kathleen'; 'Secret Love'; 'Cattle Call'; 'Love Song of the Waterfall' and 'Rose Marie', plus many other great hits and songs that the audience can sing along with Ian, in an hour of incredible Country music that is different and exciting.

A fabulous, exciting Country music show, with full backing
TOGETHER AGAIN
The Ultimate Tribute To Patsy Cline & Slim Whitman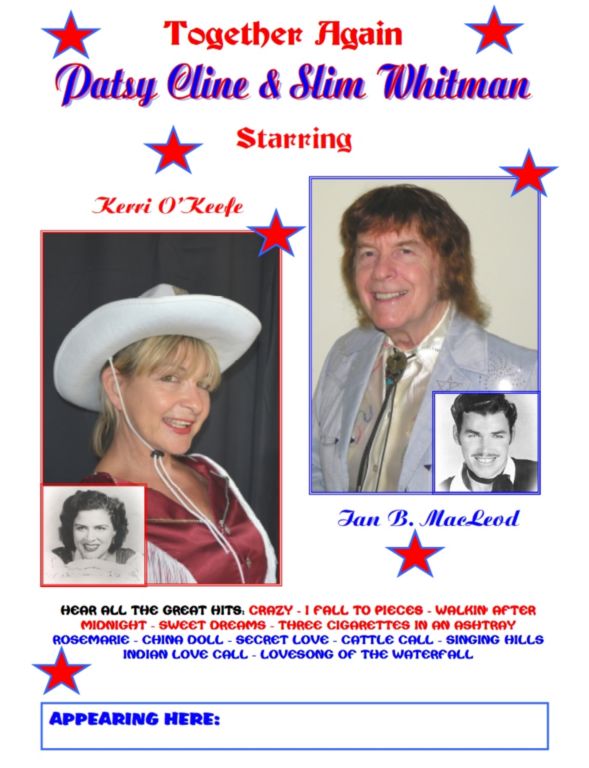 A FABULOUS tribute show, saluting two of the all-time greats of Country music.....

Between them they had countless chart-topping hits such as Crazy; Sweet Dreams; Walkin' After Midnight; I Fall To Pieces; She's Got You – China Doll; Indian Love Call; Rosemarie; Kathleen; Cattle Call; Lovesong Of The Waterfall.

TODAY, audiences can enjoy the magical experience of our own "Patsy Cline", KERRI O'KEEFE, in a show that has delighted audiences all over Australia, recreating the beautiful voice of the legendary Patsy Cline, surely one of the greatest ladies of Country Music.

TOGETHER, with our own "Slim Whitman", IAN B. MacLEOD, who, with his incredible three octave vocal range, has captured the falsetto, yodelling sound that is so much a part of the Slim Whitman legend.

SO, sit back, relax and enjoy two of Australia's GREATEST entertainers as they recreate the magic that was .....

Patsy Cline and Slim Whitman
JOHNNY O'KEEFE
MEMORIAL SHOW
A blast from the past in honour of the original
"Wild One" of Australian rock 'n' roll

The life of Australia's greatest rock star, Johnny O'Keefe, was one of determination, raw courage, unabashed enthusiasm, endurance & above all talent. That life came to an end in St. Vincent's Hospital on October 6th, 1978.

To pay tribute to this legend of song, and to perpetuate his memory, good friend & fellow rocker, Alan Dale, put on the first "Johnny O'Keefe Memorial Concert" in 1984.

Alan took the show around Australia & it became so successful he has kept with it since compering & closing the show with a selection of J O'K's biggest hits.

Regular artists appearing on the show include: "Adam" & The Living Dolls; Roland Storm; Barry Stanton; Vicki Forrest; Lee Sellers; Johnny Devlin and Alan Dale. Vintage black & white archive footage of these entertainers and their association with Johnny O'Keefe is a feature of the production.

Australia's original "Mr. Rock 'n' Roll", Alan Dale, is featured on the album "Love Songs of the Rock 'n' Roll Era", which to date has sold over 80,000 copies. "Adam" currently has eighteen albums on release. One of Barry Stanton's two Gold Records was written by Johnny O'Keefe, while he produced "Don't You Worry About That" & "Beggin' On My Knees".

"The Johnny O'Keefe Memorial Show - Live In Concert" CD or cassette, plus t-shirts, souvenir spoons & keyrings are available on the night.

The cast of "The Johnny O'Keefe Memorial Show" are original performers from the halcyon years of "Six O'Clock Rock"; "The Johnny O'Keefe Show" and "Sing, Sing, Sing". Each of these artists work independently in the entertainment industry. For this reason we set aside certain months of the year for performances of "The Johnny O'Keefe Memorial Show" featuring the regular cast.

To commemorate the Anniversary of John's passing, the special edition of "The Johnny O'Keefe Memorial Show" will be available for your venue throughout 2016. An early enquiry re: available dates will ensure you secure the original cast.

A video is available for your perusal on request.
Further publicity, including large posters, plus photos & bios of the artists, are also available.

A BLAST FROM THE PAST IN HONOUR OF THE ORIGINAL "WILD ONE" OF AUSTRALIAN ROCK 'N' ROLL
Albern Promotions
A DIVISION OF AXGORE PTY. LIMITED
Licenced Theatrical Agents
Telephone: (02) 9449-1816